By Virginia Fishes In Virginia Fishes
November 9, 2016
Welcome our two Sandbar Sharks to the Virginia Living Museum's Chesapeake Bay Tank (CBA)!
We are continuously acclimating new fishes to holding systems and exhibits here at the VLM and sharks are no exception. As our fishes grow, they are moved to larger exhibits which gives them more space and also means they will interact with new, larger tank-mates. Sharks have a public reputation for being aggressive eaters, even dangerously so, but most species of sharks are not aggressive and are actually wary and shy compared to many large fish species such as bluefish, red drum, cobia and striped bass. And, just like people, individual sharks have different personalities, some more passive than others. These two juvenile sandbar sharks needed to be large enough to fend for themselves and be able to compete aggressively for food with much bigger fishes – and a loggerhead sea turtle – to fit into CBA's population.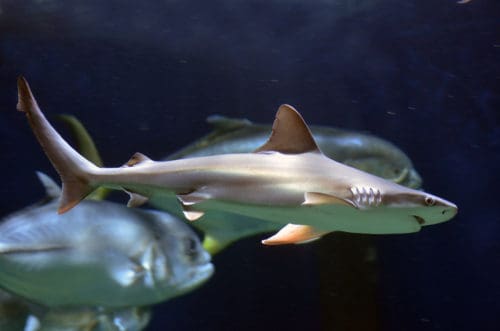 The first step was to train them to eat from a pole so we can ensure they each get enough food and that we are able to accurately provide the specialized diets and supplements specifically formulated for sharks (daily feeding log is shown below).
This process is classic conditioning and takes a while, but these two were excellent eaters from the start. After mastering their technique among smaller fishes in a large holding tank, "Patricia" and Kendall" were ready for the big time. (training target pictured below)
We introduced the pair into CBA the first week in November and they have not only held their own, but mixed it up with the big boys during the 2 pm public feedings.
We acquired our newest sharks in late July, 2016 from Dr. Rich Brill, a world renown shark expert from VIMS Eastern Shore Lab. His most recent endeavor involved a study of Greenland sharks that captured a female Greenland shark estimated to be at least 290 years old and determined that individuals of that species may live to nearly 500 years old! Much of his other work focuses on the physiology and conservation of local Virginia shark species such as the sandbar shark.